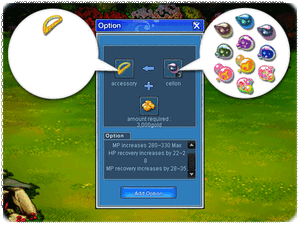 Jewellery is wearable equiptment for a player's neck, fingers and wrist. They come with diverse capabilities and additional options that enhance the character's base stats, and come in the form of necklace, rings and bracelets.
Adding Options to Accessory
Edit
Jewellery like most other equiptment can be upgraded to improve the character's base stats (such as HP, MP, etc). In order to do this, a special item called "cellon" must be added at Celloin Vintage (the jewellery specialist NPC). Cellons come in different levels, and can be created at Raul Endinel, or lower level cellons can be collected as drops. Each Cellon has a level between 1 and 10
Maximum Level for Equipment: Maximum Level of added Cellons.
Maximum amount of options for a equipment: Maximum amount of added Cellons.
The number of options differs according to the level of added Cellons.
Edit
Lv1 Cellon
Lv5 Cellon

Increases Maximum HP 30~100
Increases Maximum MP 50~120
Increases Restorable HP 5~10
Increases Restorable MP 8~15

Increases Maximum HP 430~550
Increases Maximum MP 450~550
Increases Restorable HP 40~50
Increases Restorable MP 50~60
Community content is available under
CC-BY-SA
unless otherwise noted.