Card Upgrading
enhances a
Specialist Card's
strengths and stats, while also adding wings to the card.
Upgrading can be done at Raul Endinel.
How to upgrade the card
Edit
Upgrading a card can be fun, but also risky, as there is a chance (depending on how high it is upgraded) of permanently losing the Specialist Card completely. If the player still wishes to continue with the upgrade, he must have a specialist card of at least level 21. Specialist Cards which can be upgraded must be at at least level 21.
First, start a dialogue with Raul Endinel in Nosville, and click the card upgrade tab. Drag the desired card to the slot along with the requred items(mentioned shortly), and click upgrade.
Cards can be upgraded up to 15 times, to get to 15+, but to get 15+ cards is very difficult, very few players have achieved this.
Items required to upgrade
Edit
To upgrade cards, there are several items needed, amounts vary depending on how much you would like to upgrade.
| | | |
| --- | --- | --- |
| Item | Location to find | Image |
| Shining Soul | Monster Drop/Private Shops | |
| Wing of Angel | Monster Drops/Private Shops/Nosmall | |
| Full Moons | Raids/Refinable/Minigame level 5 prize | |
Risks of Card upgrade.
Edit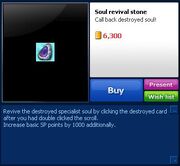 When you upgrade, there will be a succes %, disabled %, failure %. Both disabled and failure are both bad.
A disabled card must be revived, and it is deemed useless until this is done. Failure means the card has disappeared.
When either of these happen, this means you have lost the card, and you must aquire one again through the quest, or buy a soul revival stone from Nosmall. This would mean spending real money.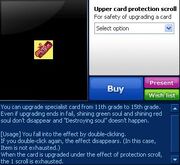 One could also use a protection item from
Nosmall
called Lower Protection Scrolls and Upper Protection Scrolls, which will protect your card from being destroyed. As an added bonus, they also save the shining soul(one of the items required to upgrade card). The difference between Lower Protection Scrolls and Upper Protection Scrolls are that Lower Protection Scrolls are used to upgrade cards from 1-10, while Upper Protection Scrolls are used for the last 5 upgrades.
Types of Wings
Edit
Wings can be upgraded up to 15 times. The higher the level of wings, the more points which will be added to the card's attributes. Wings will also have a special appearance depending on what level the card has been upgraded to.
12 18 8 8 10 10 12 15 15 5 20 25 5 5 5
8
Success: 30%
Destruction: 30%
Fail: 40%
Gold: 500k
Wing of Angel: 30
Full Moon: 16
Shining Red Soul: 3
4
Success: 60%
Destruction: 10%
Fail: 30%
Gold: 200k
Wing of Angel: 10
Full Moon: 7
Shining Green Soul: 8
9
Success: 25%
Destruction: 35%
Fail: 40%
Gold: 500k
Wing of Angel: 35
Full Moon:18
Shining Red Soul: 4
2
Success: 75%
Destruction: 0%Fail: 25%
Gold: 200k

Wing of Angel: 5 Full Moon: 3
Shining Green Soul: 4

10
Success: 20%
Destruction: 40%
Fail: 40%
Gold: 500k
Wing of Angel: 40
Full Moon: 20
Shining Red Soul: 5
5
Success: 50%
Destruction: 15%
Fail: 35%
Gold: 200k
Wing of Angel: 15
Full Moon: 10
Shining Green Soul: 10
11
Success: ?
Destruction: ?
Fail: ?
Gold: 1 million
Wing of Angel: 45
Full Moon: 22
Pure Soul: 1
Card Level
Sucess Rate
Requirements
1
Success: 80%
Destruction: 0%
Fail: 20%

Gold: 200k
Wing of Angel: 3
Full Moon: 1
Shining Green Soul: 2
12
Success: ?
Destruction: ?
Fail: ?
Gold: 1 million
Wing of Angel: 50
Full Moon: 24
Pure Soul: 2
6
Success: 40%
Destruction: 20%
Fail: 40%
Gold: 500k
Wing of Angel: 20
Full Moon: 12
Shining Red Soul: 1
13
Success: ?
Destruction: ?
Fail: ?
Gold: 1 million
Wing of Angel: 55
Full Moon: 26
Pure Soul: 3
3
Success: 70%
Destruction: 5%
Fail: 25%
Gold: 200k
Wing of Angel: 8
Full Moon: 5
Shining Green Soul: 6
14
Success: ?
Destruction: ?
Fail: ?
Gold: 1 million
Wing of Angel: 60
Full Moon: 28
Pure Soul: 4
7
Success: 35%
Destruction: 25%
Fail: 40%
Gold: 500k
Wing of Angel: 25
Full Moon: 14
Shining Red Soul: 2
15
Success: ?
Destruction: ?
Fail: ?
Gold: 1 million
Wing of Angel: 65
Full Moon: 30
Pure Soul: 5