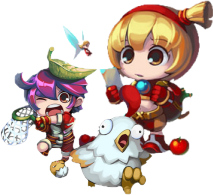 "The Adventurer might look young and inexperienced, but looks can be very deceiving. Every new player that enters NosVille, begins as an inexperienced adventurer, but endures hard training so that he can become a hero one day. The adventurer wields his weapons full of curiosity and the passion of youth with the aim of fighting evil."
~Nostale UK
About Adventurers
Edit

An Adventurer is the starting
class
the player receives when they first begin the game. They are made to teach the player about the game and it's basics in which the player can change their class later on as they progress. However, there are those who stay as Adventurers later for specific reasons. The Adventurer's skills are very basic and most similar to the Swordsman when comparing similarities with the 3 basic classes. If a player likes the Adventurer, the Swordsman could be recommended to them when making their job change.
Job Change
Edit
To change to a different job, the player will need to:
Get to Combat Level 15
Get to Job Level 20
Take off all the Adventurer equipment
Once the player has done that, they'll have to talk to Eril Counter for the Job Change and choose one of the 3 basic classes:
Once the player has changed Jobs, they get 3 equipments and all the CP that was used for the Adventurer skills.
In general:
Swordman- used for tanking because of high hp.
Archer- great damage expecially with hit critical hits. Attacks from ranged distance.
Sorcerer- notable for healing. Has incredable attack as specialist.
Permanent Adventurers
Edit
Permanent Adventurers are Adventurers that decide not to change their job. These players do this for many reasons including:
Attention
Challenge
Making attempts to glitch the game
Decency in Chicken Raids
Adventurer Specialists
Edit
Currently there aren't any Adventurer only specialists. However, Adventurers can use the Pajama and Chicken specialists. But they cannot use the JaJamaru specialist since it requires Job Level 38 while the Adventurer's maximum Job Level is 20.
Spare Weapon
Edit
The Adventurer uses a simple Sling Shot for ranged attacks. Sling Shots require the use of bullets in order to work.
Swing
Job level: 0
Element: none
Description: Basic attack skill
Skill Effects:
CP: 0
Cast Time: 0.2 seconds
Distance: 1 cell
Cooldown: 0.6 seconds
Target: Selected
Mp Cost: 0
Shooting Slingshot
Job level: 0
Element: none
Description: Basic ranged skill
Skill Effects:
CP: 0
Cast Time: 0.6 seconds
Distance: 7 cells
Cooldown: 0.6 seconds
Target: Selected
Mp Cost: 0
Strong Hit
Job level: 4
Element: none
Description: Swing weapon stronger to cause greater damage
Skill Effects:Close Attack Power increased by 60
CP: 2
Cast Time: 0.5 seconds
Distance: 1 cell
Cooldown: 10 seconds
Target: Selected
Mp Cost: 4
Target Shooting
Job level: 4
Element: none
Description: More accurate shooting to cause bigger damage
Skill Effects:Remote Attack Power increased by 55, Target Level for remote attacks increased by 15
CP: 2
Cast Time: 0.5 seconds
Distance: 7 cell
Cooldown: 10 seconds
Target: Selected
Mp Cost: 4
Energy Bolt
Job level: 4
Element: none
Description: Basic magic available to adventurers
Skill Effects:Magic Attack Power increased by 80
CP: 2
Cast Time: 1.0 seconds
Distance: 7 cell
Cooldown: 1.0 seconds
Target: Selected
Mp Cost: 8
Spinning Hit
Job level: 8
Element: none
Description: Spinning the body one time to attack nearby enemies
Skill Effects:
CP: 2
Cast Time: 1.0 seconds
Distance: self
Cooldown: 20 seconds
Target: all in 3 cells
Mp Cost: 12
Beat Up
Job level: 12
Element: none
Description: Recklessly beats up an enemy in front
Skill Effects:Close Attack Power increased by 80
CP: 2
Cast Time: 0.4 seconds
Distance: 1 cell
Cooldown: 15 seconds
Target: Selected
Mp Cost: 7
Shout of Combat
Job level: 12
Element: none
Description: Increase attack and defensive power
Skill Effects:All Attack Power increased by 10, All Defense Power increased by 5
CP: 2
Cast Time: 1.4 seconds
Distance: self
Cooldown: 15 seconds
Target: self and pets
Mp Cost: 25
Shout of Morale
Job level: 12
Element: none
Description: Increases morale level
Skill Effects:Increases Morale Level by 4
CP: 2
Cast Time: 1.4 seconds
Distance: self
Cooldown: 0.2 seconds
Target: self and pets
Mp Cost: 18
Charging Attack
Job level: 14
Element: none
Description: Accumulates power for next attack
Skill Effects:All Attack Power increased by 40
CP: 2
Cast Time: 1.2 seconds
Distance: self
Cooldown: 20 seconds
Target: Selected
Mp Cost: 15